This is a small graphic guide to setting our preferences regarding cookies in different browsers, in their latest versions.
Firefox version 25
Access the "Options", "Privacy" menu appears "Remember history". We must check "Use custom settings for history" and disable "Accept Cookies". O "Accept Cookies" the "Always ask".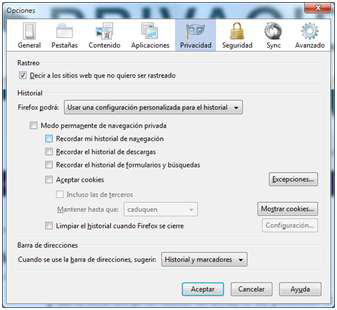 More information Firefox online support.
Google Chrome 31
Go to "Settings", "Show Advanced Options", "Privacy", "Content Settings". Or copy in the address bar "chrome: // chrome / settings / content". Default is marked "Allow local data to be stored (recommended)".
To not allow cookies, you have to switch to the "Do not allow data to be saved sites".
Internet Explorer 10
In "Internet Options", "Privacy" tab, it has by default "Media", which blocks some third-party cookies and restricts some third party cookies.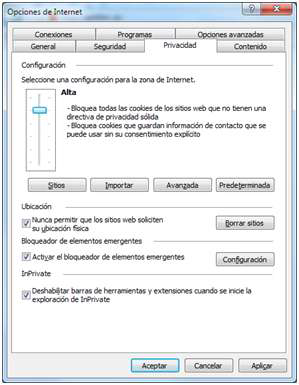 Safari 5 (Windows)
In the "Tools", "Preferences" menu, we can see that is enabled by default "advertising and others." To prevent the installation of cookies, we will switch to the "never".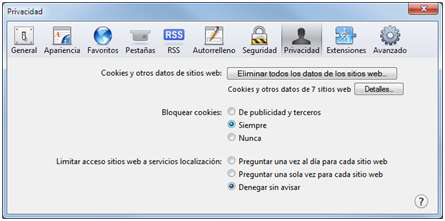 OPERA 12
On the menu, "Settings," "Options" in the "Advanced" tab, section "Cookies". The default is the option "Accept Cookies".
To block third-party cookies can check the "accept cookies only from the site visited," or block with the "Do not accept cookies ever."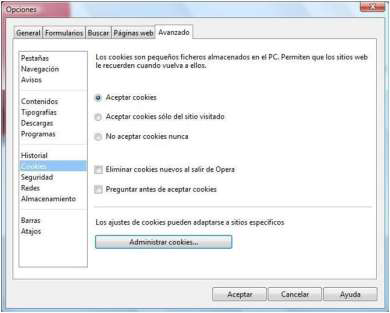 Additional information provided by the developer of the browser