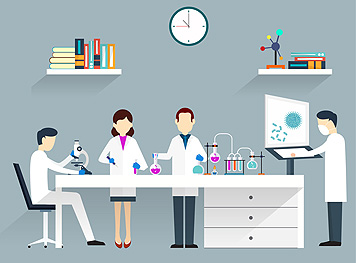 Laboratorio Biosalud understand the Research and Development as a set of activities undertaken systematically to increase the flow of scientific and technical knowledge, as well as using the results to develop new applications.
Given the growing demand for new demands in the area of ​​the analysis, the lab aims to develop lines of research based on the application of new fast, efficient and reliable techniques to ensure the accuracy of the results.
In this context we have proposed since 2006 bet by the R & D to achieve their goals, continually developing new innovative projects with a score line to improve each and every one of the activities.
RESEARCH PROJECTS
"IMPLEMENTATION OF AN INTEGRATED MANAGEMENT SYSTEM: ERP + CRM + KNOWLEDGE MANAGEMENT"
Timeframe: 2006-2008
"Development of technical QUICK TO TRY TO SOLVE PROBLEMS MICROBIOLOGICAL in the wine sector"
Ochratoxins determination, Brettanomyces, trichloroanisole and histamines.
Timeframe: 2006-2008
"DEVELOPMENT AND VALIDATION OF ANALYTICAL IN WATER AND HERBAL"
Detection of Legionella pneumophila by PCR. Determination of pesticides. Microbiological analysis according Ph.Eur.
Timeframe: 2008-2009
"DESIGN, DEVELOPMENT AND VALIDATION OF ANALYTICAL QUALITY FOR EVALUATION AND STUDY OF STABILITY IN TIME OF DRUGS A Herbal" RENADUS "Y" LAXADUS.
Timeframe: 2009-2010
"DEVELOPMENT OF ANALYTICAL QUALITY CONTROL OF WATER, SOIL AND FOOD BASED gas chromatography coupled to mass detector"
Timeframe: 2010-2011
"DEVELOPMENT OF INNOVATIVE ANALYTICAL METHODOLOGIES BASED ON A gas chromatography mass detector"
Analysis of tin compounds derived from isotope dilution and determination of anisole in wine.
Timeframe: 2012-2014
Financed by the European Regional Development Fund (ERDF) and the Agency for Innovation and Business Financing (ADE).